Why a photo collage with heart shape?
Did you know that the heart shape originally came from the stylized representations of ivy leaves? Since ivy is a very long-lived plant, the ivy leaf, and therefore later the heart, was considered a symbol of everlasting love. Today, we often encounter the heart as an emoji with which we express our affection in a digital way. However, if you want to take your love message a little further for a special occasion, you can use a heart shape collage to do so. Give your beloved people a little more love with this carefully crafted gift.
Make a personalised
gift for v
ery special people
A heart photo collage is suitable for people with whom you have an intimate, familiar and close relationship. This can be your partner on the one hand, but also another person who is very close to you. After all, our siblings, parents or grandparents have also earned a special place in our lives – and thus also a right to their own photo collage with heart.
A photo collage with heart shape also makes a very nice expression of love for children, teenagers and adult children. As a mother or father, you often have a much easier time finding good photo material. After all, over the years, some snapshots are always taken. If you want to make a birthday present out of your heart collage, you can even photographically represent the different stages of your child's development.
However, most people who want to create a heart photo collage do so as a personalised gift for their partner. Since the heart symbol is so closely associated with romantic love, many different levels of meaning unfold here. Thereby, this playful photo gift is suitable for both anniversaries and wedding anniversaries as well as for birthdays or as a loving attention for Valentine's Day.
Create your own Heart Collage easily
Creating a heart shaped photo collage can be a demanding task, requiring graphic design expertise with programs such as Adobe Photoshop. However, using Phinsh Collage Maker, you can create such a photo collage in less than 1 minute using the following 5 steps without any prior design knowledge:
Download Phinsh for iOS (iPhone) or Android depending on your device's type.
Open the app and click on Start to select your photos.
The default Heart Collage is already created! you may just want to change the shape of the collage or to adjust the size of photos or the space between them.
Save your heart shape collage with the Standard, HD or UHD resolution option depending on your printing requirement.
Step 1: Start
Step 2: Select photos
Step 3: Default collage created!
Step 4: Choose the heart template you like
Step 5: Adapt your photo collage easily
Step 6: Save your collage as standard or high-quality image depending on your goal
Tips for an awesome heart shaped photo collage!
Match photos and template well: Since the heart shaped photo collage already looks very playful due to its contours, you should try to bring in some calmness when choosing your images. The best photos for this are full-surface photos with little detail in the image space.
Showcase your favorites: Do you have one or maybe even several shots that are particularly important to the message of your personalised heart collage? Then you should arrange them in the center of the heart shape. This is possible using the "Move" option, which will move all the photos in the collage one step row by row keeping the same order of the photos in the shape collage. 
Tip: If some of your images are cut off, you may reposition their content by using the "Crop" option, which is available after clicking on the "Photos" button.
Choose the background color carefully: Although you can choose any background color you like using the background color selector in Phinsh, you should not get cocky. Especially if your photos are to be printed in color, a gaudy background can take the focus off the images. When hung up, such heart collages often look a bit crowded. Therefore, it's best if you choose a clear, reduced background in black, white or gray.
How to use your new creative photo collage?
If you download your collage as an UHD image, you have now the freedom to use it for large prints keeping your photos sharp and clear. In the following are some ideas to use for your new collage.
Print your heart collage template on canvas
The heart picture collage you created may serve as a very nice decoration piece for your home or as a printed gift for someone as a special gift. Canvas or framed pictures are the most stylish printing surfaces since the beginning of photography, and its artistic touch brings a real gallery feeling into your home!
Print your collage on apparel e.g. t-shirt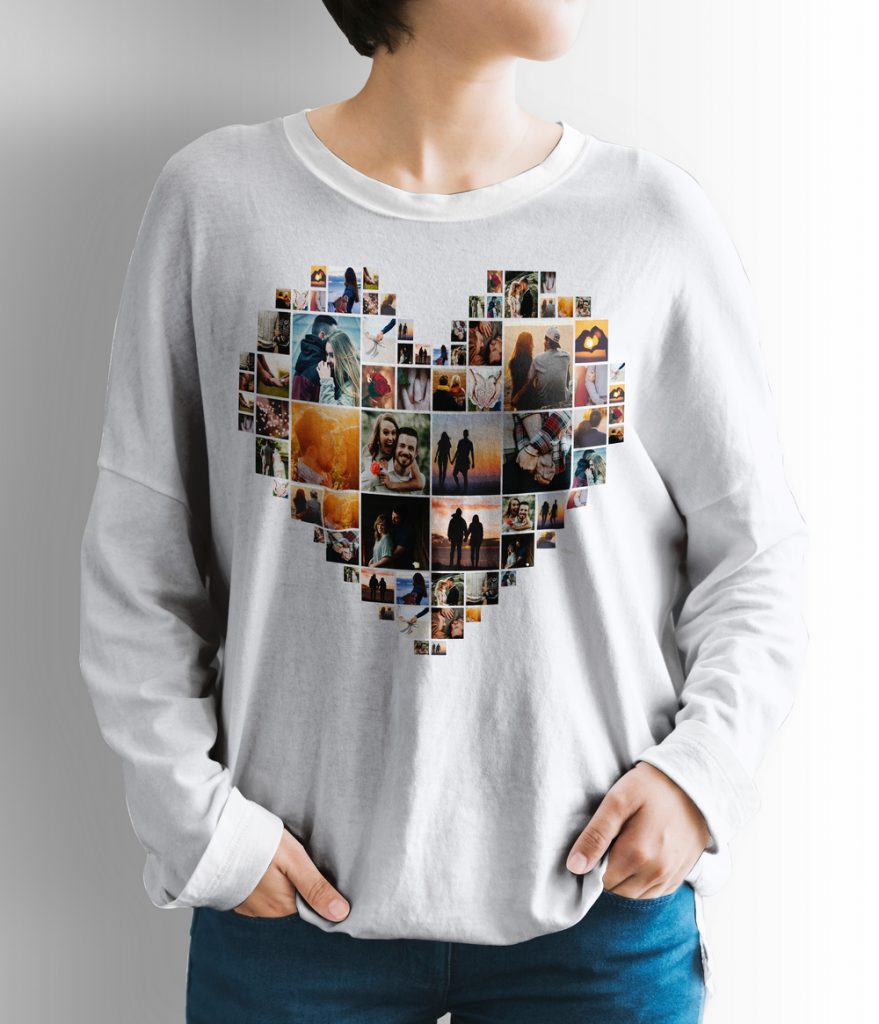 Use it as a wall heart collage template, as a mug, pillow or as a gift card print are also other awesome design options!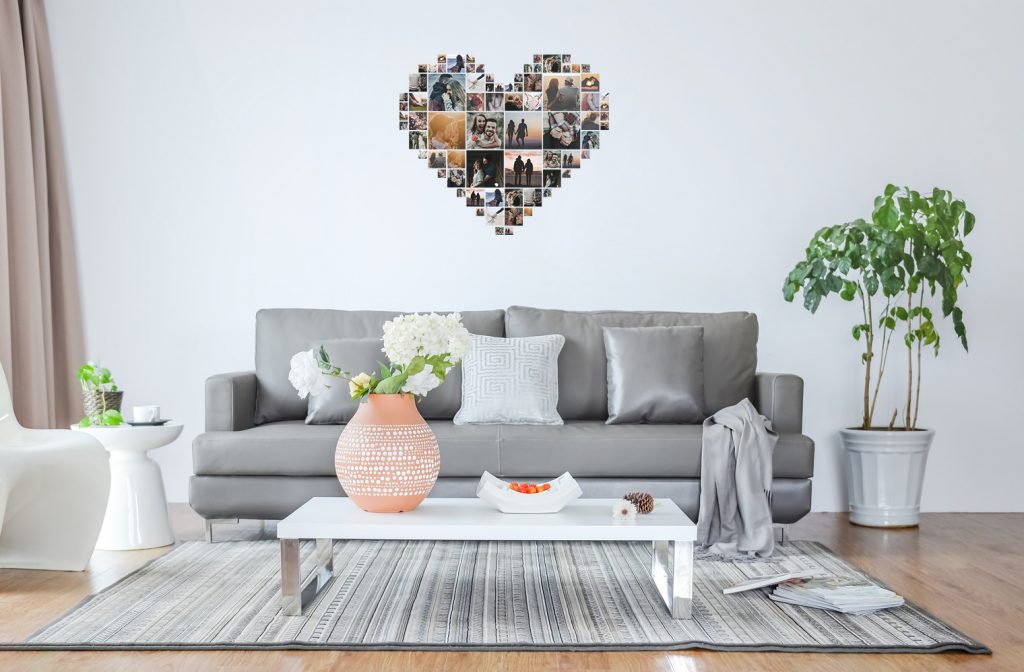 In this article, we illustrated how easy it is to create a heart shaped photo collage using Phinsh Collage Maker. Also, we presented couple of how ideas how you can use this creative and personalized photo collage idea.
Now, it is your turn to be creative and find ideas and applications of this heart collage design or any other template using Phinsh. Also, remeber that the app has many other features that were not presented here and that it includes more than 250 ready templates and that it supports custom shapes as templates as well as using any text or number as a template for your creative photo collage idea!
Tip: get some additional personalized and special gift or photo collage ideas by looking at Phinsh gallery here.